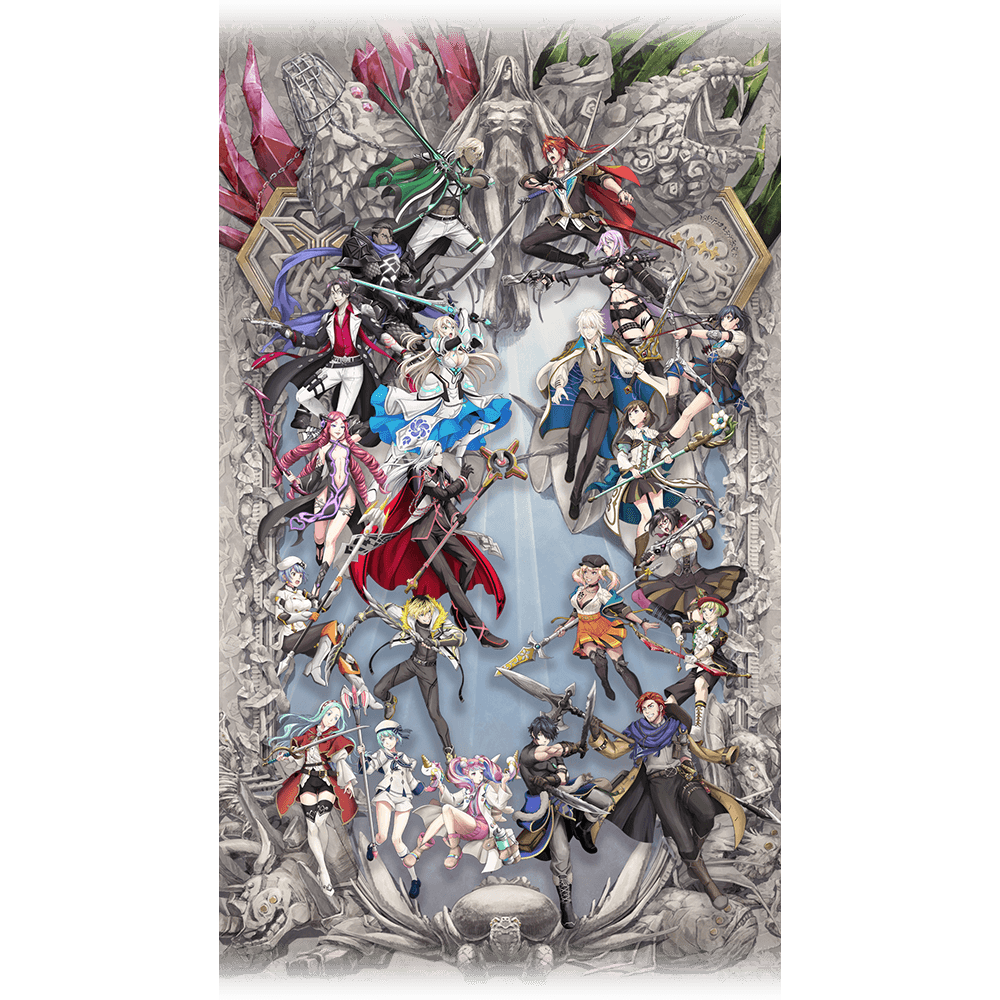 I'll fight for my justice… And kill yours if I must.
Long ago, this land was home tobeasts the size of mountains that have now become petrified.Mana overflowed from their remains, drawing people who sought its power,and civilizations sprang up.

People came to revere these mana-producing creatures,which they named 'Primordial Beasts'.They built their lives around them.Thus began the worship of the Primordial Beasts.

Time flowed ever onward, to the present day...

War erupts between the Jerle Federation,an alliance of countries who worship the Primordial Beasts,and the Gildllan Empire, which has enjoyed explosivedevelopment thanks to advanced technology.The fires of war burn ever brighter.

Federation knights-in-training, Imperial soldiers,and adventurers who owe allegiance to neither side...
21 very different people weave the story of their bonds,and the paths they forge through a turbulent age.
Will their varying outlooks lead them to hidden truths about the world?You'll have to play to find out...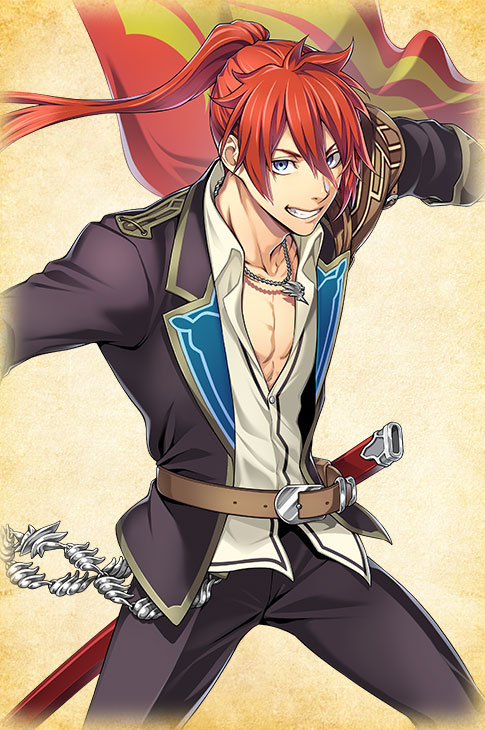 Leo Fourcade
A young man who's taken his deceased grandmother's teaching to 'live nobly' as his creed. He enters the knight academy along with his friends, Celia and Hugo.
He and Hugo were taken in by Celia's relatives after losing their hometown as children. Passionate to a fault, his efforts often spin him in circles as a result of his 'act first, think later' attitude.
To defeat the empire that destroyed his hometown, he joins Blaze to improve his skills alongside his companions.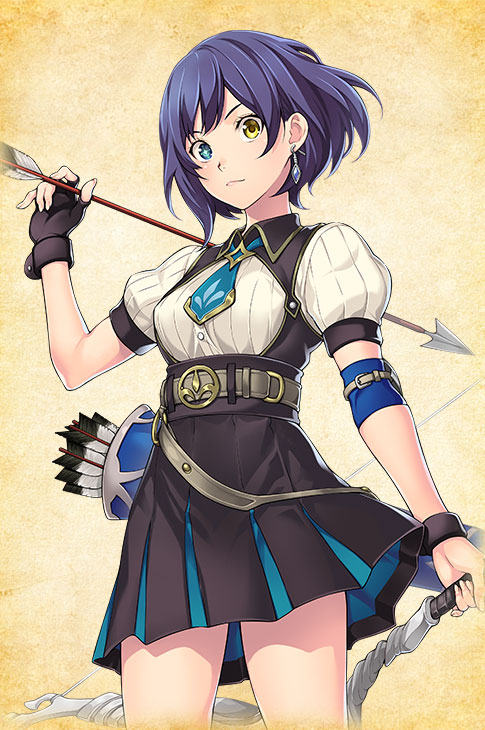 Celia Arvier
Leo and Hugo's childhood friend. She enters the knight academy with them and joins the ranks of Blaze.
A natural caretaker, she always keeps a close eye on her friends, even as she feels they've grown distant from her, a trend that started when she was the only one absent when their hometown was destroyed.
With good sight and a discerning eye, she specializes in long-distance attacks with her bow.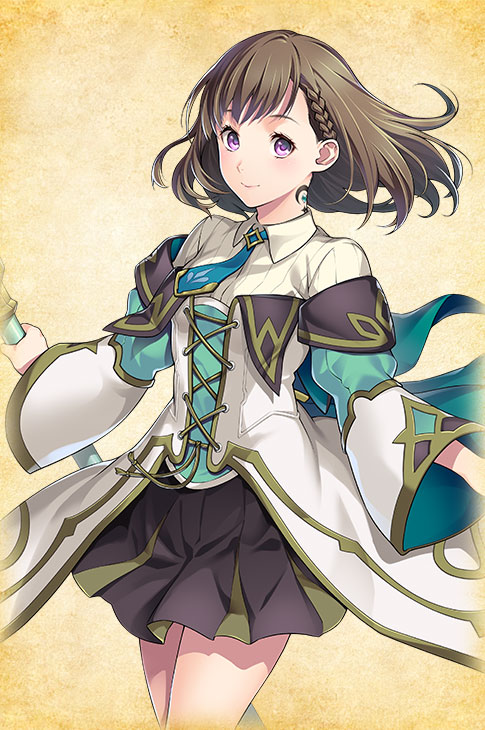 Michelle Bouquet
Her doctor parents died while she was young. Raised and trained in medicine at her grandfather's clinic, she entered the knight academy after receiving encouragement from a certain individual.
Along with her contemporaries, Celia, Leo, and Hugo, she's training to be a knight, but she acts somewhat awkward around Leo. While her supportive healing artes give her a gentle impression, she's equally capable of inspiring her allies in desperate situations.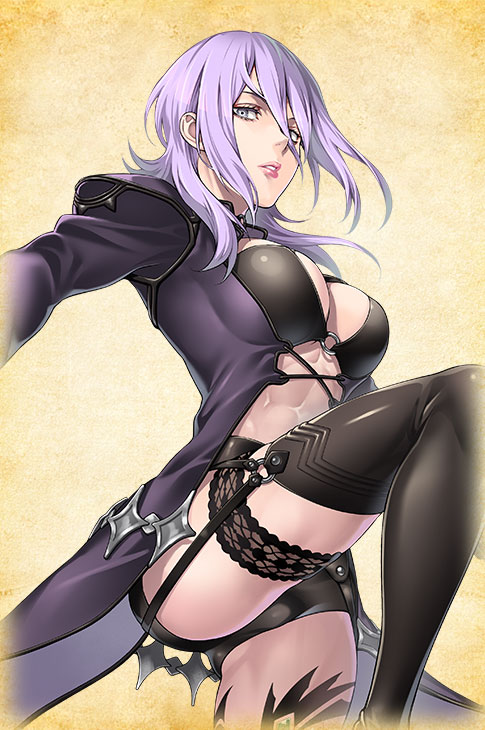 Lisette Regnier
In charge of Aedis Knight Academy's special elite class, Blaze. Each year, she pits the best of the incoming class against each other and takes the top two knight candidates as her students. Her martial skills are top class and, although she's got the experience to back it up, she stays off the front lines for some reason. Her teaching style is brutal and unflinching, but not without care. She's a longtime acquaintance of Gaspard's, and it seems they know each other very well...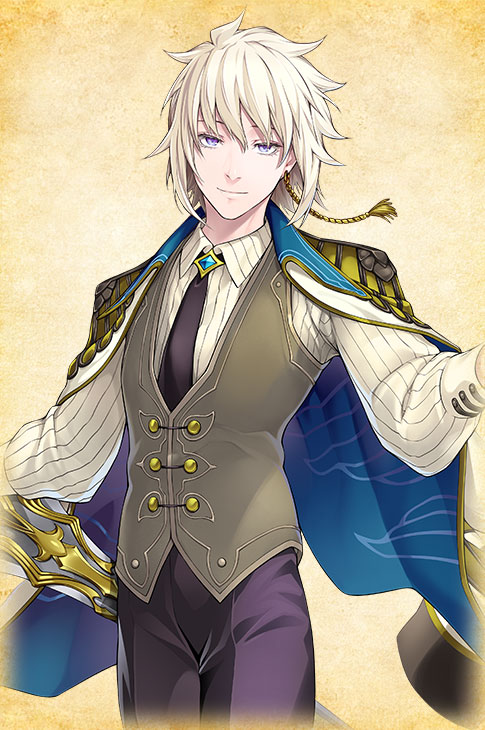 Lucien Dufaure
The head of Blaze who possesses superior combat and leadership skills. Owing to a wisdom beyond his years, he's found success in executing a wide range of tactics, which has earned him the trust of his instructor. But his kindness and his penchant for tea and sweets doesn't give him a strong impression as a commander. He's occasionally been seen clutching his chest as if in pain.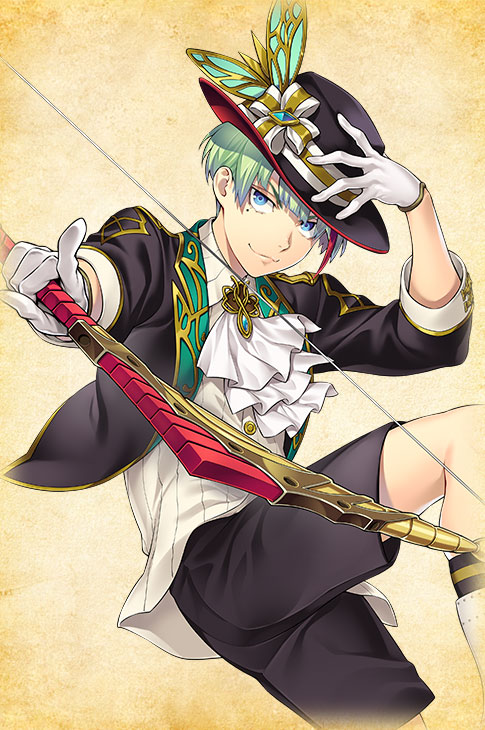 Maxime Hasselmans
''On the pride of the Hasselmans'' is this young scion's favorite phrase. He insists Lucien is his rival, but Lucien doesn't pay him much mind.
Sometimes stuck-up and sometimes cowardly, he's often the butt of his underclassmen's teasing. But he's considerate of those around him and when the chips are down, he's got what it takes to do what must be done. He lives in the shadow of his talented older brother and dreads that his father expects nothing of him.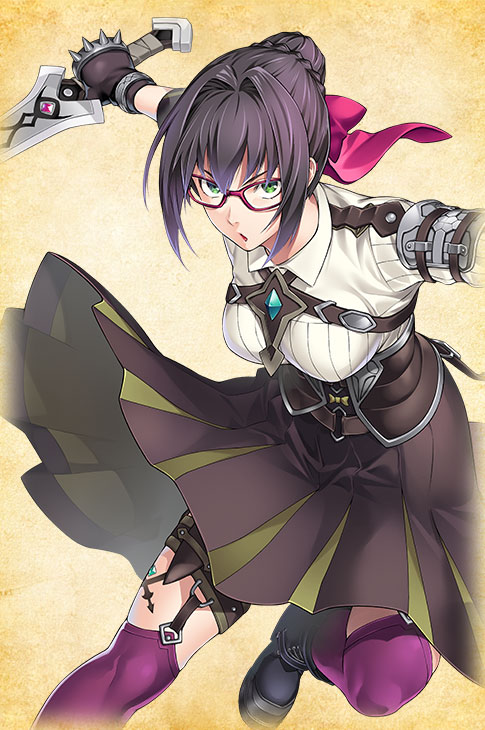 Vanessa Morax
A member of Blaze whose strength is second only to Lucien's. Her skills have earned her the respect of the younger members, but she struggles with decision-making and relies on others to determine how she should act, as if seeking someone to take the lead for her.
Although she has a serious and formal demeanor, she is adorably thrown into a panic when caught off guard.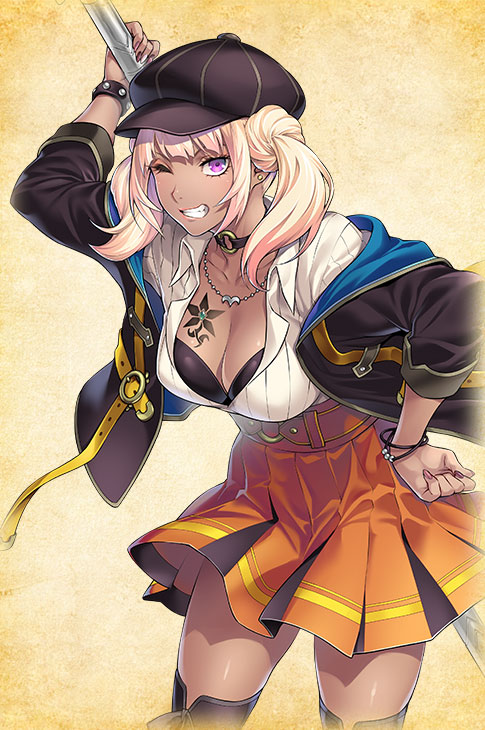 Yelsy
The daughter of the Divine Queen and princess of Amr Qhaghan. Lives together with Toto, a creature only she can see. Laid back in both her speech and attitude, Yelsy has the kind of cheerful personality that can make anyone feel like an equal. She's friendly with everyone in Amr Qhaghan, regardless of age or gender. She's even able to get along with her classmate Vanessa, who is her polar opposite in personality.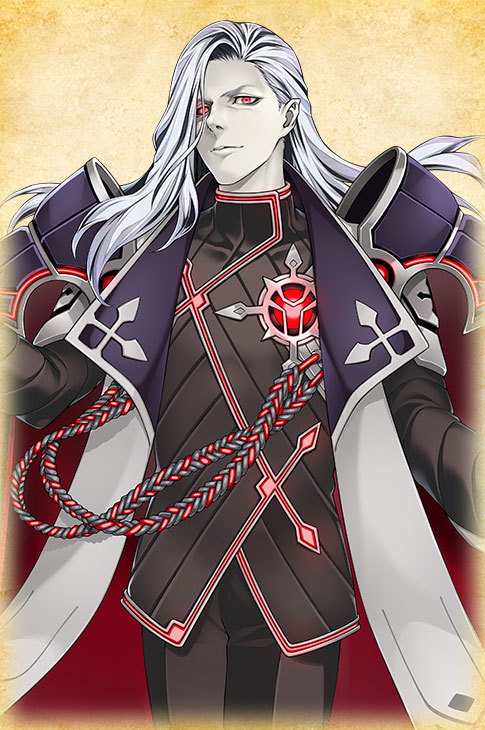 August Wallenstein
Once a humble apple farmer, his life changed drastically when an inhuman military operation robbed him of his home and his beloved wife and daughter. Swearing vengeance, he joined the imperial army, where his rare talents eventually elevated him to the rank of chancellor. He often works with Alexandra, though with her strong idealism, they rarely see eye to eye. It is Laplace who seems to understand him best of all...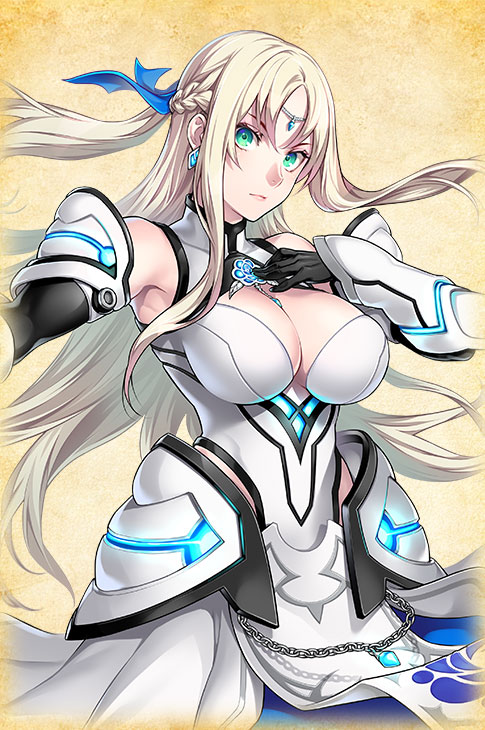 Alexandra von Sonne
The White Wolf of the Alphas, who support the empire alongside August. Noble-born and possessing exemplary abilities and character, she graduated top of her class from the imperial military academy. A firm adherent to her own sense of justice, she continues forward with August and Laplace, despite their clashing beliefs. She has earned the nickname ''the Ivory Immortal'' thanks to the unbelievable speed at which she crushes her foes. She's also a big eater, potentially capable of eating the residents of the imperial capital out of house and home.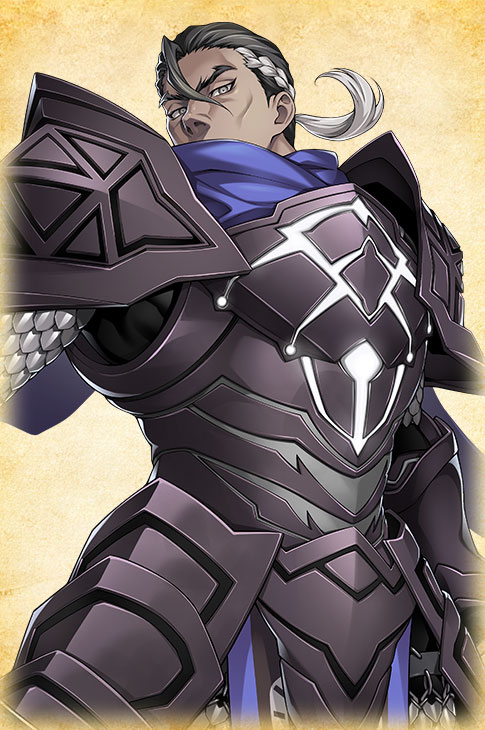 Bastien Forge
The Black Wolf, one of the Alphas who support the empire alongside August. He boasts overwhelming strength, even for a soldier of the imperial army; his mere appearance on the battlefield is enough to make federation soldiers shudder in fear. A man lacking in emotions, he usually thinks only of the mission, but sometimes baffles others with his peculiar comments. He thinks of himself as little more than a weapon, and when not on duty, he is training for his next mission.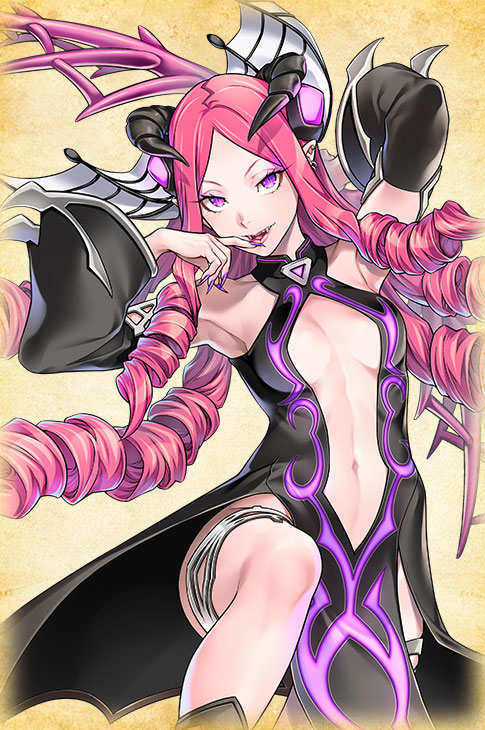 Laplace
The Red Wolf, one of the Alphas who support the empire alongside August. Ever manipulating, tempting, and deceiving, she is truly a demon in her own right. Although she is nonetheless favored by the emperor, there are many within the empire who distrust her. Even so, her charm and beauty have placed untold numbers of imperial soldiers under her spell, as if drawn to her unique dangerous aroma. She and Alexandra are polar opposites, incessantly bickering and fighting like cats and dogs.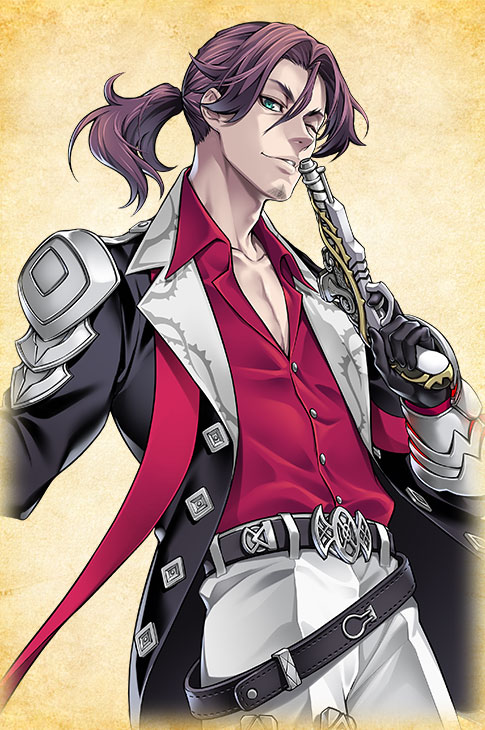 Gaspard Herbet
An enigmatic figure who travels between the federation and the empire, taking orders from both the emperor and the federation's Shade Corps. The large number of missions he receives from both sides ensures he is kept busy day and night on espionage missions. A frivolous, flirtatious man, he never speaks with much sense of urgency, no matter how dire the situation. As a result, he is often looked down upon by others. But on the other hand, those who understand his skills are highly wary of him.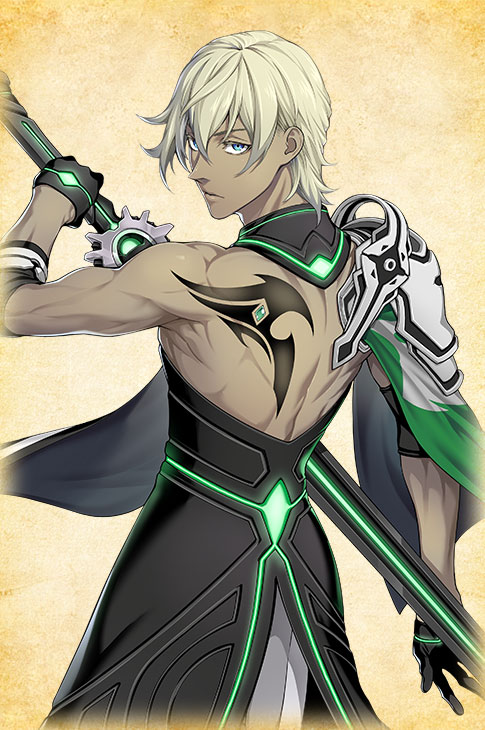 Hugo Simon
Friends with Leo and Celia since childhood. Although earnest and deeply caring for his friends, he has an awkward tendency to keep his worries to himself. During his activities as a member of Blaze with Leo and the others, an incident caused him to become increasingly distrustful of the federation until a meeting with August lured him over to the imperial side. Now he fights for the empire alongside his contemporaries, Amelie and Falk.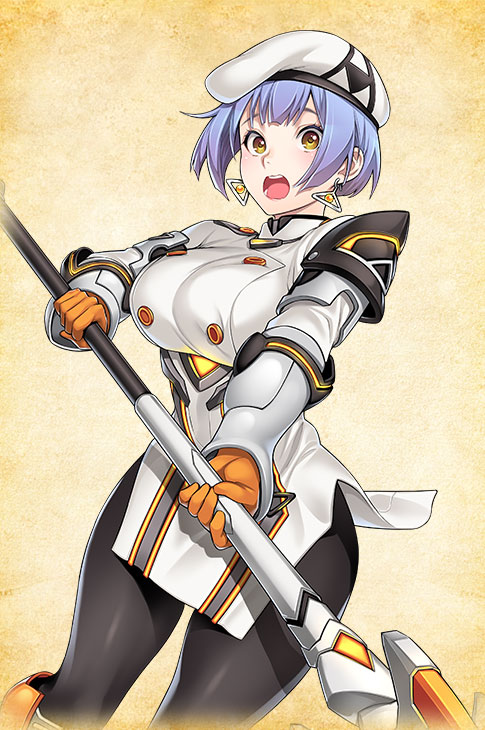 Amelie Laurence
A girl who grew up never letting go of her childlike innocence. she is a far cry from what one would expect of a soldier. With her uncanny luck, everything she attempts somehow manages to turn out well. She enlisted in order to procure a stable income to send back to the children's home where she grew up. She refers to herself as captain and requests her two members to do so as well. She was involved in a Reactor explosion as a child, and was miraculously the only survivor.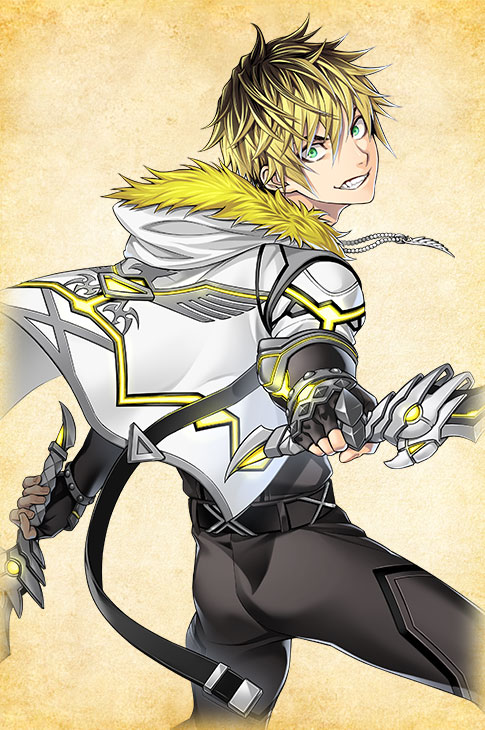 Falk
A young man recruited by August for the imperial army. A very self-centered individual, he puts all of his efforts into attaining glory through military exploits.
His fighting abilities are such that he is even feared within the army for his violent temperament. He lived at the same children's home where Amelie was raised, but he hated being just another face in the crowd, so he ran away and survived solely off his skills as a mercenary. He admires Bastien, who is renowned as the greatest warrior in the empire.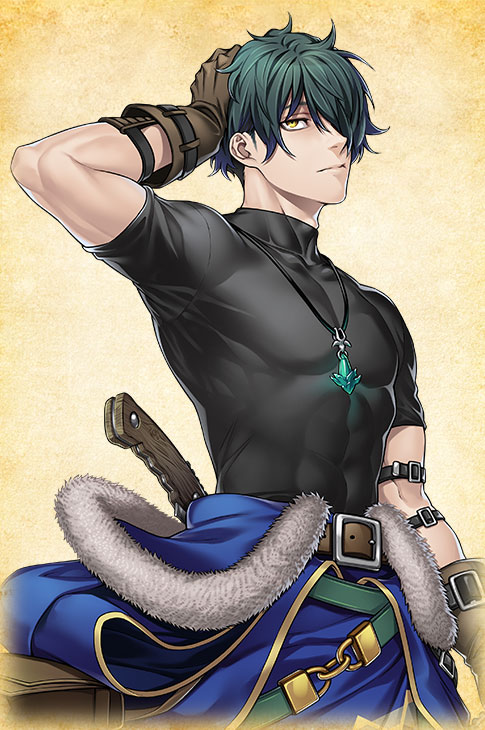 Edouard Rouquier
A young wanderer traveling the world after a government takeover forced him to leave the Miasui Icedom. The experience has given him an aura of apathy. While working as a mercenary, he meets Lydie and travels with her as her bodyguard, later joining Ana-Maria's party. Even with his off-putting personality, his innate good nature has not changed, and despite his complaining, he tends to put great effort into helping others.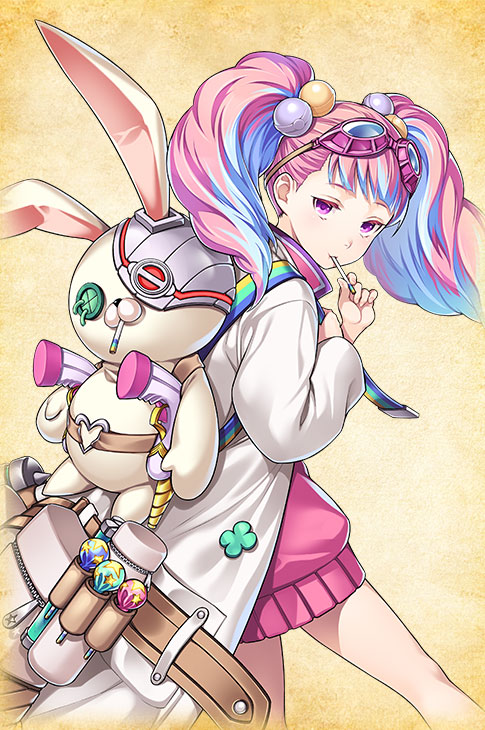 Lydie Delacroix
A girl who was working hard at research and absorbing knowledge while in the mansion where she was under de facto house arrest. Her father, an influential merchant in the Huazar League, left her there like warehouse stock from an early age, and she spent her free time reading the books he dealt in. As a result, she has become a child prodigy with unparalleled knowledge, and now she sets out on a journey to prove her hypothesis regarding her concerns about the world.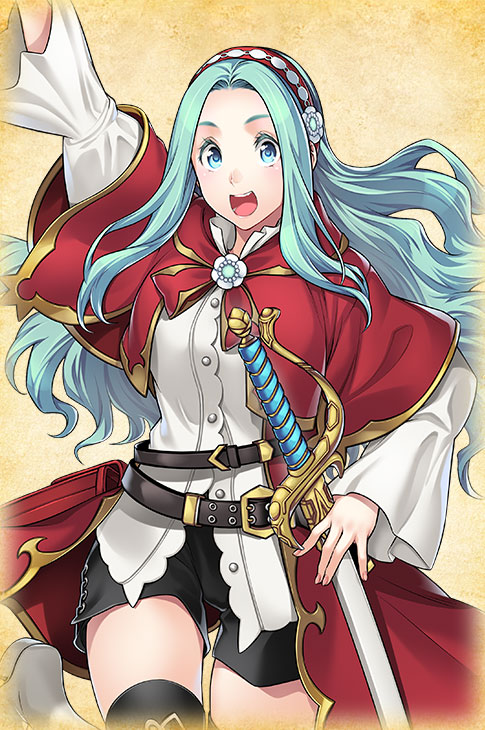 Ana-Maria Marschner
The daughter of the second emperor of the Gildllan Empire. A sheltered child since birth, she grew up without any knowledge of the outside world and lacks even basic facts. When her father is killed in August's coup, she flees the country with Charles. She later happens upon Raoul, Ed, and Lydie, and as she travels with them, she gradually learns about the world and its hidden truths.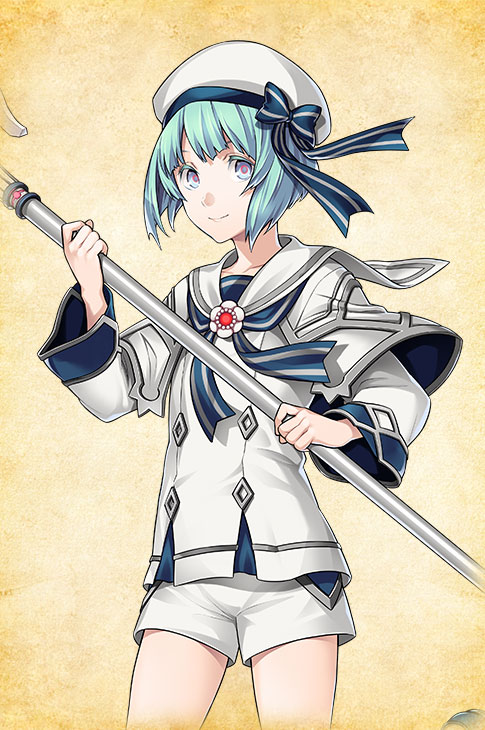 Charles
Having lived with Ana-Maria since their time in the imperial capital, he always puts her first and acts accordingly. Always there to affirm everything Ana-Maria says and does, he tries to get rid of anyone who might get in her way. To those around him, it often goes beyond overprotection and into the realm of delusion.
He has a sharp tongue when it comes to anyone other than Ana-Maria, treating Raoul in particular as if he were the scum of the earth.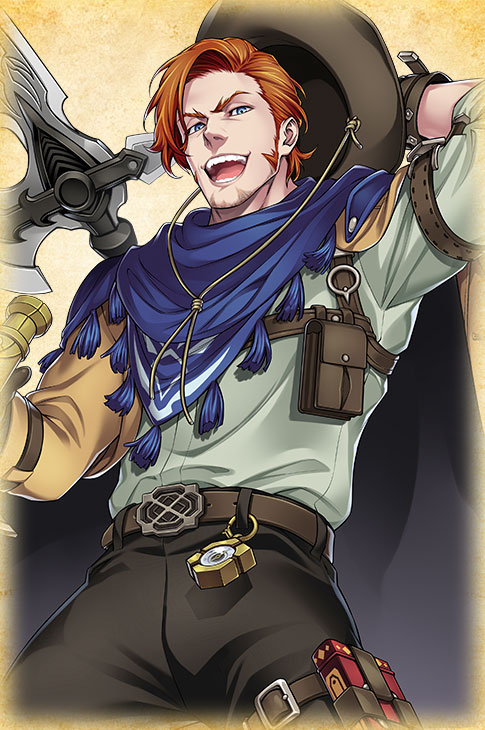 Raoul
A self-described archaeologist who claims that his job is to investigate and study ruins. He, in fact, has a profound knowledge of the subject, but isn't particularly trusted. He was mistaken for a grave robber during an expedition, which got him tangled up with Ed and Ana-Maria, but they're still suspicious about his identity.
Although treated as an old man by those around him, he stubbornly insists that he is still young.

Title

Tales of Luminaria

Release Date

End of Service

Platform

iOS/Android™

Languages

Japanese, English

Audio

Japanese, English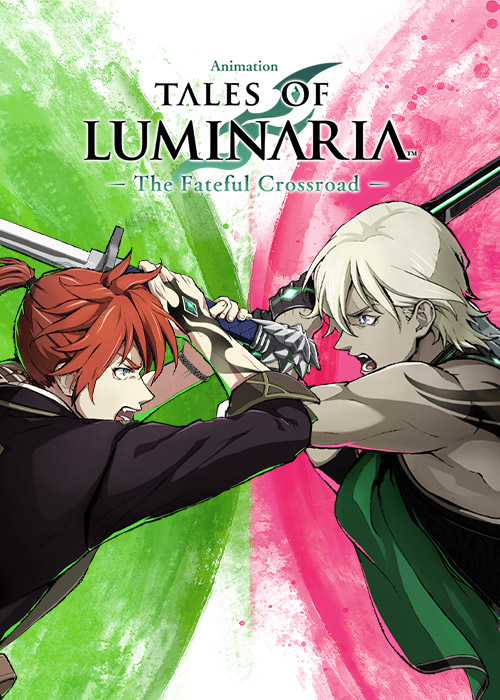 Tales of Luminaria the Fateful Crossroad
"Where's the justice in this?!
Answer me, Hugo!"

Long ago, this land was home to beasts the size of mountains.
Mana overflowed from their remains, drawing people who sought that power,
and civilizations sprang up. People came to revere these mana-producing creatures,
which they named "Primordial Beasts."
They built their lives around them. Thus began the worship of the Primordial Beasts.

Time flowed ever onward, to the present day...
War erupts between the Jerle Federation,
an alliance of countries who worship the Primordial Beasts,
and the Gildllan Empire,
which has enjoyed explosive development thanks to advanced technology.
The fires of war are stoked with each passing day.
Leo, a young federation knight-in-training, heads out to complete a mission in Lunne,
a town formerly under imperial control, now located near the border.
With him are his childhood friend and fellow trainee, Celia, and their instructor, Lisette.
Who should be waiting for them but Hugo,
a former friend turned traitor to the federation, now a soldier of the empire...
TALES OF LUMINARIA™& ©Bandai Namco Entertainment Inc.
Character Design/Shun Saeki